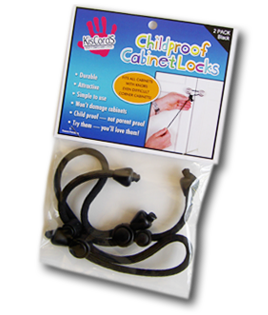 INSTRUCTIONS
Pull the end of the right cord tight against the main cord stop (very important).
Place the loop of the cord around adjacent cabinet knobs.
In one continuous movement, pull the left cord with the smaller cord stop down and to the left.
For added security, slide the smaller "locking" cord stop tight against the main cord stop.
For removal, simply loosen the cord and remove it from one of the knobs.


Pricing and Ordering
When you buy a Kiscord product, you not only get the simplest and best solution for securing your cabinets, but you are also helping us bring jobs back to America. We source as many of our parts as possible right here in the USA. In addition, many of our products are assembled and packaged by workers who are physically and mentally disabled.
Each Kiscords cabinet lock package contains two closure straps and sells for only $4.95.
Just click on the "BUY NOW" button to the left and see how easy it can be to childproof your cabinets. Products are shipped via USPS 1st class and usually takes between 2-7 days for delivery
If you are a reseller and are interested in getting our product at wholesale, just click on the "RESELLERS" button above, or contact us by phone or email and we will get back to you promptly.

Testimonials
"This is THE BEST CHILD SAFETY LOCK I have ever tried. Easy for adults but still difficult enough my 3 year old grandson could not open. Very happy with this product."
"LOVE this item! BEST KEPT SECRET IN BABY PROOFING GEAR!! Seller is great as well! Price was right as well."
"I ordered this product to safety proof kitchen cupboards for my one year old granddaughter visiting for three weeks. We had six adults and many visitors in and out of our busy kitchen. These locks were fabulous and easy to undo as we the adults needed. Would highly recommend this product. WONDERFUL!!!!"
"Item is very simple to use and difficult for the little one to figure out & stylish."
"LOVE these cabinet locks. I have tried 5+ different locks for our kitchen cabinets and these are by far the best. They are easy for adults to open, yet impossible for our toddler to open. They are gentle on our cabinets - no hardware or drilling required, no scratching of the finish or cabinet knobs."
"These latches really work and are easy to use. "
"Love these. Thanks!! "
"These work well and they are tight, so my 2 year old hasn't been able to open under the sinks since I it them on. Great product! "
"These latch/laces are a great idea. They work very well with our cabinets with knobs and hold up well to our boys. "
"This works so well on our computer armoire to keep our toddler son out of the armoire. Easy to use and will not damage any wood. "
"Great family business love the product and fast shipping. "
"These cabinet locks are great...I did not have to drill anything and they work effectively....arrived on time with no problems. "
"EXCELLENT, would highly recommend. Simple and effective. "
"Speedy delivery, item as described, great customer service "
"Great! I have a 20 month old who gets into everything but not with these on the cabinets! "
"I love these cabinet locks. They don't scratch, are durable and are easy to take on/off. I ordered 2 more sets. I was anxiously awaiting the other 2 sets after I received my first order."