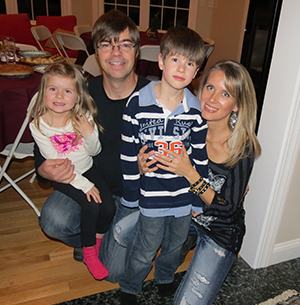 Welcome to Kiscords. My name is Bara Wheelwright...owner and inventor of Kiscords Childproof Cabinet Locks.
The Kiscords story began several years ago when our son was about a year and a half old. It was just about the time when he began to realize the freedom of walking. I recall very well, because that's when even more of my freedom evaporated. It's also around the time when he began to explore the hidden treasures of cabinets. Although I already felt like a slave to this tiny person, now I had the additional job of reorganizing and putting away every pot, pan, cooking gadget and other miscellaneous item that was stored within his arm's reach several times per day. Finally, I had enough.
I told my husband to go to the store and buy some safety cabinet latches for our cabinets. He apparently had no idea what he was looking for, because he came back with about five different types of baby safety latches. I tried all of them, and surprisingly, none of them worked very well. When I tried them, I found that they wouldn't hold our small knobs, fell off even when securely fastened, were parent proof as well as childproof, and marred my wood cabinets.
While I was contemplating a better child safety solution, the idea of what is now the Kiscords Childproof Cabinet Lock came to me. I made several safety latches for the home and found that they worked great, didn't damage the cabinets, worked on all knobs, and were very easy to secure and remove. I never intended to actually sell them to other mothers, but after all my friends and family with children wanted them too I decided it would make a great side business and help other mothers as well. I decided that if this was going to be a real business, that I wanted in my own small way to help our struggling economy. That is why as much as possible I have tried to outsource our parts to other US businesses. I also wanted to be able to help those in need, which is why many of our products are assembled and packaged right here in the U.S. by the physically and mentally disabled.